Kyoto Vacation Rental Club
Kyoto is a walkable city with 4 distinct seasons full of beauty and splendor.
In Spring time, the Sakura (cherry blossoms) explode in a burst of color.
Summer is a lively and exciting time full of festivals and fun.
Autumn's Momiji leaves envelop you with their comforting colors.
The brisk air of winter is invigorating and paints a vivid picture.
We invite you into our home to experience the beauty of Kyoto any time of the year.
Location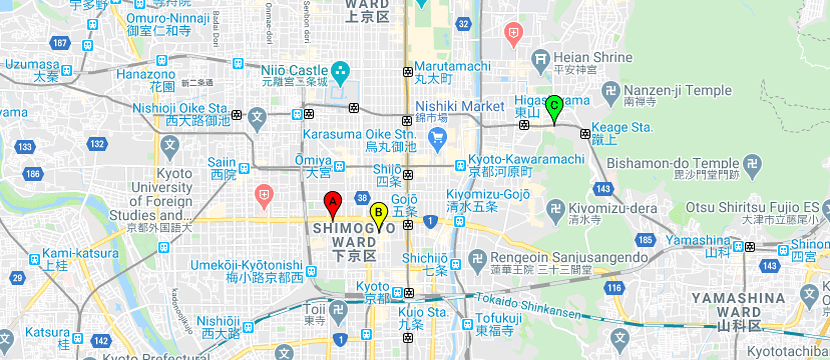 Reservation
How to Book
How to Check-In
① Please meet our staff and designed meeting location.
   ​Our meeting locations are:
② Our staff takes you to house.
③ Staff will show you around house and give you instructions for each facilities and equipment.
④ Please read our agreement and singe.  We also take copy of passport which is    required by Japanese Government.   
⑤ Please notify our staff your check-out time.
⑥ Our staff gives you a house key and house is all yours!
Enjoy your stay!
How to Check-Out
① Our staff will come to your request time. (Our Check-Out time is by 11:00 a.m.)
② Our staff will check the house.
③ If there's no damage or problem, you are ready to go!
Thank you for your stay!
Reservation Request Form
After checking the days when the rental house is available and reading the Terms and Conditions of the Accommodation Contract, submit your reservation request via the form below.
A few days after your reservation request, an e-mail will be sent informing you that we have received your reservation request; the e-mail will include instructions on how to pay the deposit. Then, pay the deposit of 30,000 yen.